Be part of something bigger

A place to grow.

A partner you trust.

A team that cares.
People
People
Be part of something bigger
Be part of something bigger
Our company is built on enduring relationships. We are part of something larger than ourselves. And we nurture lifelong connections that build long-term value for our teams, our customers and our communities. Because people are the foundation of our success.
A place to grow
We believe everybody can achieve extraordinary things. Your greatest competition is yourself. The drive to learn, to grow, to improve every day is something we value and encourage. Because when you grow, we all grow.
People
A partner you trust.
A partner you trust
Motherson does not just focus on financial results. We work hard to be of great value in the work and lives of all our stakeholders. When we succeed, we earn their trust and they allow us to deepen the relationship. Of course, we aim for high returns on our investments. But ultimately, we believe our success is best measured as return on trust.
People
A team that cares.
A team that cares
Collaboration is based on humility and respect. Everyone has a role to play. Once everyone is aligned and working together, anything is possible. At Motherson we support each other in every we can. In our business, every part counts.
A place to grow
"The only limits are my own," explains Pal-Levente Tibori, executive vice president at SMR. "The more I put in, the more I can get out."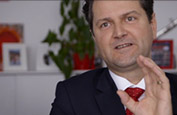 Pal-Levente has come a long way with us. When we acquired SMR, it was bankrupt and demoralized. Employees were leaving, and those who stayed expected to be let go.
At Motherson, we say: By yourself, better yourself
"But an incredible thing happened. Motherson arrived and promised: Together we can turn this around."
An engineer at the time, Pal-Levente took the challenge and the responsibility personally. He made a commitment to himself. At Motherson, we say: By yourself, better yourself. It means you should be your own benchmark. Set it high and constantly beat it.
As Pal-Levente went from engineer to team leader to executive vice president, SMR became one of the most profitable companies in our group. That's our promise to every one of our employees: we provide the room to flourish. Grow with us, and we'll make space for you.
A partner you trust
"Relationships aren't built on an assembly line," explains Pankaj Mital, COO, Samvardhana Motherson International Ltd. (SAMIL), (formerly Motherson Sumi Systems Limited (MSSL)) "Trust takes time. We build it each day with everything we do."
That's a principle that runs deep in our company. Trust doesn't stop at our customers. Our staff and their families total almost a million people around the world. Their livelihoods depend on us. It's a responsibility we don't take lightly. And the success we've experienced reinforces our commitment. We call it return on trust. Trust takes time. We try to build it each day with everything we do.
Trust takes time. We build it each day with everything we do.
"When the last auto plant in Australia closed in 2017, we could have cut and run," says Mital. "But we've never closed a production site. We've never laid off an entire workforce. That's not how we operate. We find a new direction to preserve our investment in plant, place and people.
So in Australia, we shifted the team's capabilities to medical, clean tech and white goods production, preserving the investment we've made in them and they've made in us."
"That kind of mutual commitment is at the heart of our company. For our employees, our customers, all our stakeholders, we believe in building trust by consistently putting them first — through both small acts and grand gestures."
A team that cares
"I like the mentality," explains Bennett, one of the first workers hired at our factory in Alabama (US). "We're going to take care of each other."
Nurturing comes naturally to us at Motherson. "You can ask and you get help right away. No one is on their own and no one expects that from you," notes Guillermo in our Ziltlaltepec plant (Mexico). "It feels like family."
Adam in Hungary adds, "The teamwork is different, the team itself. I have never seen it like this before."
We take care of each other
It's a sentiment we hear from Delhi to Detroit. And nothing is more humbling than hearing from teammates who have found the support they need to thrive within our Motherson family.
In the end, fostering a culture of collaboration and support pays off for everyone. "We don't compete with each other," observes Jazmin in Mexico. "We collectively focus on the end result."